Mapping America's NFL loyalties
Facebook crunches the fandom numbers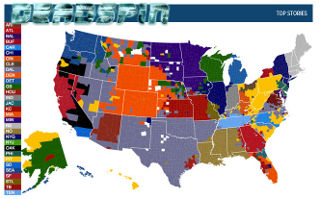 If you're planning to watch the Super Bowl this Sunday, chances are you've picked a team to root for -- either the Ravens or the 49ers – whether you live in Baltimore or San Francisco (or not).
For the rest of the year, however, your NFL loyalties are probably geographically based. At least that's the potential takeaway from a quite colorful and interesting map created by Facebook's Data Science team.
We here at The MSN Traveler found this pigskin-meets-metric​s schematic on a humorous Deadspin.com post. As author Barry Petchesky notes, Facebook combined the NFL team 'likes' of more than 35 million users to create a color-coded map that shows, county by county, what NFL team rules locally in the minds of fans.
Petchesky offers analysis, like "Alaska is confused" and "the Jets have just one county." Four additional maps follow allegiances through the playoffs.
Does the main map truly represent NFL fandom reality? I'm looking at the area around Oakland, Calif. and scratching my head. Take a look at the map and see if it matches your team loyalty or not. Then decide for yourself.
Check out complete Super Bowl coverage on Fox Sports and a fun travel showdown between Baltimore and San Francisco.
 
Screen shot courtesy of Deadspin.com
WHAT DO YOU THINK?
Which of these extreme outdoor sports would you be brave enough to try?
Which of these extreme outdoor sports would you be brave enough to try?
Total Responses: 57,225
Not scientifically valid. Results are updated every minute.
FOLLOW MSN LOCAL