24 hours in Vegas – What's hot and happening in Sin City
Experience a whirlwind tour of Las Vegas.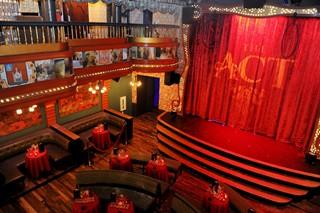 By Julia Dimon

It's a fantasy land of neon lights and Elvis impersonators; a playground for adults with addictive personalities and the only place where you can hit Paris, Venice and Jimmy Buffett's Margaritaville all in the same night. Home of hedonism, white tiger illusionists and the gourmet all-you-can-eat buffet, there's just no place like Vegas! For those headed to Sin City over the holidays, here are a few fun new places to spend a cool 24 hours.
Start your Vegas visit with a bloodcurdling scream and a heart pounding adrenaline rush. Goretorium, a year round haunted house of horrors, promises guts, gashes and, as the name implies, a lot of gore. Presented by Director Eli Roth of 'Hostel' horror flick fame, this twisted tourist attraction just opened on the Strip in late September so luckily, you don't have to wait for Halloween to get your scare on. 
Other fresh on-the-scene attractions include The Neon Museum, boasting the largest collection of vintage neon signage in the world, and The Mob Museum, which opened downtown in February. This former federal courthouse turned museum chronicles the history of organized crime in Las Vegas. Through artifacts and interactive displays, you can learn the inside scoop on wire-tapping, the witness protection program and Capone's St. Valentine's Day Massacre. The exhibits at The Mob Museum highlight the illegal activities, legends and lore of the American gangster.
Post continues below video

With the afternoon spent screaming your face off at Goretorium and learning about organized crime, you surely have worked up an appetite. For an elegant dining experience , make a reservation at the newly opened Bagatelle, a super club and massive day-to-night party venue that serves up fine French cuisine at The Tropicana. The white banquettes, opulent chandeliers and artsy photos of iconic Hollywood starlettes, make for a sleek modern design. With locations in NYC, St. Barth's, Los Angeles and now Vegas, Bagatelle is perhaps best known for its legendary Champagne Brunch. Launching this month, their boozy brunch takes mimosas and DJ house music to the next level. For dinner, I recommend the seafood platter, followed by the sinfully delicious foie gras toast and the gnocchi with black truffle pesto. Amazing!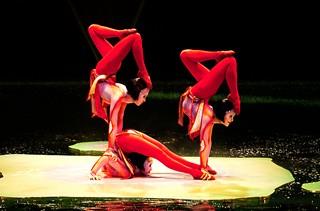 Belly full, next item on the agenda is a trip to one of Vegas' most iconic shows. "O" at the Bellagio, is a completely surreal aquatic spectacular that should not be missed. While there are many newer Cirque du Soleil shows in Vegas, "O" remains one of the most popular with more than 10 million spectators since it first opened in 1998. In classic Cirque fashion, the show combines circus arts, acrobatics, synchronized swimmers and vaudevillian comedians across a dream-like set and whopping 1.5 million-gallon pool. I've seen a few Cirque productions but this one has got to be one of the best! It's 90 minutes of pure awe that makes you marvel at the human body and sparks an urge to hit the gym. 
Finally, it's party time! No trip to Vegas would be complete without a black out drunk hangover, a Mike Tyson inspired face tattoo, followed by a solemn promise to "never drink again." The new kid on the party block is called The Act, a 9,600-square-foot nightclub space in The Shoppes at The Palazzo, is the latest venture by Simon Hammerstein, creator of NYC's legendary nightclub "The Box," With stilt-walkers in Venetian masks, burlesque dancers and an eccentric décor (including a bronze statue of transsexual porn star Buck Angel), this two-month old club is quickly becoming the next 'it' spot. Led by emcee Raven O, former known as the  "ringleader of debauchery," this nightclub promises spontaneous theatrical tableaus and participatory performances that exude sexuality and push the boundaries of taboo.  Curious? Jaded nightclub goers (ahem…guilty as charged) are sure to be amused. Gentlemen are strongly encouraged to reserve tables, and ladies should be on the guestlist. For those looking for a little extra VIP attention, there is also an exclusive backstage area where you can be immersed in the behind-the-scenes action.
Party until the wee hours of the morning, Vegas style.
WHAT DO YOU THINK?
Which of these extreme outdoor sports would you be brave enough to try?
Which of these extreme outdoor sports would you be brave enough to try?
Total Responses: 57,225
Not scientifically valid. Results are updated every minute.
FOLLOW MSN LOCAL