Flight attendants weigh in on their biggest pet peeves
Cabin crew members pick the most irritating habit of travelers, and it's not what you think.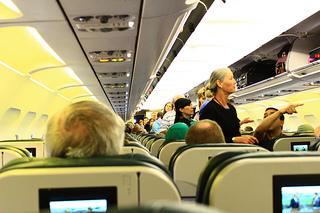 We've all spent a flight cramped in the confines of a plane cabin with The Passenger from Hell. Perhaps it's a feral three-year-old and his blasé parents, who can't (or rather, won't) keep him from kicking the back of your chair all the way from CDG to JFK. Maybe it's the businessman who insists 30,000 feet up is the perfect locations to clip his fingernails, or the nervous flyer who guzzles four mini bottles of booze in the first hour and then passes out into your already limited personal space. My personal favorite is sitting next to the newlyweds who can't keep their hands off each other.
It's enough to make you feel sorry for the poor cabin crew members responsible for keeping these misfits in line.
But what habits do these patient saints of the sky actually find the most irritating in travelers? It's not the nail clipping or the booze swilling or the making out. According to a Skyscanner survey of more than 700 international crew members from 85 countries, the most annoying habit is when passengers snap their fingers to get attendants' attention (folks, that's what that little call button is for). Other unpopular behaviors include getting out of your seat at the end of the flight before the sign goes off (I hate that, too!), stuffing too many bags in the overhead, and asking for more blankets/a different meal/a certain brand of beverage. What, did you think flying was supposed to be comfortable?
Another interesting tidbit from the survey: the ideal passenger is apparently a 30-something single male traveling for pleasure rather than business.
What's your pet peeve among fellow flyers?
Photo courtesy of bradleygee.
WHAT DO YOU THINK?
Which of these extreme outdoor sports would you be brave enough to try?
Which of these extreme outdoor sports would you be brave enough to try?
Total Responses: 57,226
Not scientifically valid. Results are updated every minute.
FOLLOW MSN LOCAL