Will travel for true pizza
Checking out the status of Vera Pizza Napoletana in America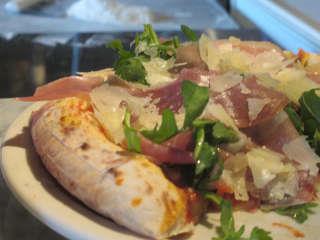 Ah, pizza ... Since the '50s, it's been an all-American food. It's everywhere, the ubiquitous pie.

In the past decade or so, though, a small but growing number of pizzerias are looking back to the dish's roots in Naples, Italy. These establishments are crafting pizzas according to the stringent standards of the Associazione Vera Pizza Napoletana, which certifies "true Neapolitan" pies, the people who make them and the places that serve them.

In a thumbnail, vera pizza is based on a simple but quality dough of pure wheat "00" flour, natural Neapolitan yeast or brewer's yeast, sea salt and pristine water. The dough is topped elegantly with a few strict combinations of tomatoes, fresh Italian mozzarella cheese, tomatoes, oregano, basil and extra-virgin olive oil. These pies are then cooked quickly in scorchingly hot wood-fired ovens on a stone surface.
When the pizza maker, or pizzaiolo, brings a baked pie out of the oven, diners can opt for other ingredients added on top.  Upscale foods like fresh arugula, slices of prosciutto, portabello mushrooms, and anchovies are popular toppings. Neapolitan pizzas are no giant meat lover's combo delivery deal or kid's birthday party Hawaiian jobs, to be sure. 

These true pizzas, and the fine restaurants that craft them, are worth special trips.

After recently enjoying a very nice vera pizza lunch special in Seattle where I live, I checked-out the AVPN website for the first time, curious to see how many U.S. pizzerias were certified by the governing body.

Surprisingly but happily, I discovered that Seattle is the front-runner in the American vera pizza trend with nearly a dozen certified pizzerias, a number of which are close to downtown and the city's major hotels and attractions.

New York City, regarded as the home of American pizza, has a trio of certified vera pizza joints, with New Jersey adding a handful more in the region. California has a few places, mainly in the San Francisco and Napa Valley areas.

In lesser travelled places, Lexington, Ky., has a trio of pizzerias. Single outposts are scattered in Henderson, Nev.; Boise, Idaho; Salt Lake City and a couple of locales in Oregon. Vera pizza definitely seems to have taken a firmer foot out west.

Peruse the AVPN's list to peruse more American "true" pizzerias. You might just want to take a pie pilgrimage (without having to fly to Italy).

Additional Pizza Travel Tool: When visiting a new U.S. city, fire-up the UrbanSpoon website or app. It's toggle setting for pizza is always replete with choices, vera pizza and beyond.

Photo courtesy of Greg Thilmont.




WHAT DO YOU THINK?
Which of these extreme outdoor sports would you be brave enough to try?
Which of these extreme outdoor sports would you be brave enough to try?
Total Responses: 57,225
Not scientifically valid. Results are updated every minute.
FOLLOW MSN LOCAL