Heading to Honolulu?
Here's what you should know before visiting the Hawaiian capital city.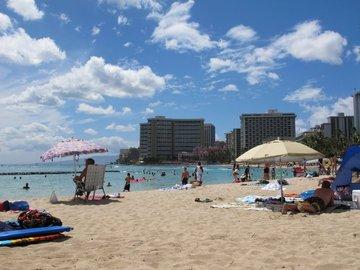 When most people plan Hawaiian vacations, they aim for the sandy beaches of Maui, or the lush rainforests of the Big Island. But for my first trip to Hawaii, I thought it most suitable to start with Honolulu—a hybrid of the sort of laid-back island vacation tourists tend to drool over and the bustling city trips I always prefer.
Last week I saw this guide CNNGo published on the best spots in Honolulu—a guide I suppose I could have used when I visited a year ago. Instead, I went to Twitter and local blogs like Honolulu Eats to research where I wanted to eat, drink, and play near our hotel on Waikiki. I found a community of people very eager to share what they loved best about their city, and my resulting vacation was just the sort of mix of underground local spots and obligatory tourist activities that I wanted.
The CNNGo guide mentions Honolulu's International Marketplace, the Diamond Head Summit Trail, and Manoa Falls, all places I visited, enjoyed, and would recommend to anyone who asked. But for a taste of the local food scene, it's important to get away from the tourist traps and ask the people who live there; when I asked, people recommended Char Hung Sut for dim sum, Ono Hawaiian Food for traditional flavors like poi and lau lau, Bubbies' expertly crafted mochi, Iyasume Musubi, and the Honolulu Coffee Company. Now these are the sort of places I wholeheartedly endorse.
If you've been to Hawaii, feel free to share tips from your travels below—it's only a matter of time before I book my next Hawaiian vacation.  
WHAT DO YOU THINK?
Which of these extreme outdoor sports would you be brave enough to try?
Which of these extreme outdoor sports would you be brave enough to try?
Total Responses: 57,225
Not scientifically valid. Results are updated every minute.
FOLLOW MSN LOCAL