Leaving election stress behind
Take our tips for decompressing now that Nov. 6 has passed.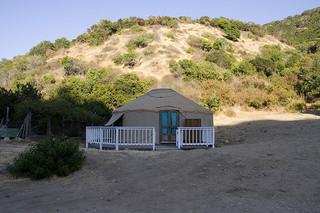 The ads, the fliers, the telephone calls, the Facebook posts, the awkward banter in line at the post office. I think it's safe to say we're all suffering from a wicked case of election burnout. (Check election results here.) Whether you're happy with the results or wish things had gone a redder direction, decompress with campaign managers around the country by hitting up one of these solitary retreats:
- Find solace in a yurt: These portable structures essentially bridge the gap between tent and cabin, making you feel like you're roughing it even though you're actually quite comfortable. It may be getting too cold for this kind of activity in some parts of the country, but the West Coast loves their yurts and most areas haven't dropped to freezing temps yet.
- Soak in the hot springs: Taking a plunge in an outdoor Jacuzzi of sorts is just the thing to melt away election anxiety. Wyoming may be the country's least populated state, but it boasts the world's largest hot spring—head to Hot Springs State Park and take advantage of the physically and emotionally therapeutic benefits of 127-degree mineral water.
- Go tech-free: Maybe you have the self-discipline to simply leave your iPhone at home, but if you've been following the election this closely, that doesn't sound like you at all. Instead, head someplace you can't even use your gadgets if you tried, like the Grand Canyon, where most of the surrounding national park doesn't get wireless reception at all.
Other recommendations for decompressing between the election and Thanksgiving? Leave them in the comments below.
Photo courtesy of wetfeet2000.  
WHAT DO YOU THINK?
Which of these extreme outdoor sports would you be brave enough to try?
Which of these extreme outdoor sports would you be brave enough to try?
Total Responses: 57,226
Not scientifically valid. Results are updated every minute.
FOLLOW MSN LOCAL