North Korea's Hotel of Doom set to open next year
Twenty-four years behind schedule, the monstrous hotel will finally open, though foreigners aren't invited.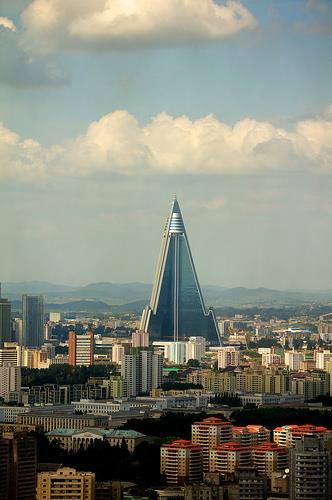 North Korea is probably not at the top of your travel list, for obvious reasons. But even if you won't be visiting the super-secretive nation anytime soon—it's certainly not an easy vacay to plan—this Daily Mail article about Pyongyang's Ryungyong Hotel, otherwise known as the Hotel of Doom, is a must-read.
The Hotel of Doom looms 1,082 feet (a whopping 105 floors) into the capitol's skyline, and is set to open next year after more than two decades of delays. The creepily futuristic, pyramid-shaped monolith is, according to the story, "the same shape and size as the Ministry of Truth in George Orwell's classic novel Nineteen Eighty-Four." It's big enough to accommodate the entire annual number of tourists to Pyongyang in a single night. (See images of the Hotel of Doom.)
But this monstrosity isn't open to tourists, likely because the hotel has been disparaged by the press and rumored about since construction started—25 years ago. Writer Simon Parry risked his life, escaping from his sanctioned hotel in the guise of a pre-dawn jogger, to be the first foreigner inside the Hotel of Doom. And let's just say he wasn't impressed:
"I step through a maze of scaffolding and set foot in what will be the lobby entrance. It is quite a disappointment. There is no marble or teak on view to match the brilliance of its exterior, no chandeliers or flunkies in gold braid. When the North Koreans first unveiled their preposterous plans, the Ryugyong Hotel was to have at least 3,000 guest rooms, five revolving restaurants, shops, a casino and eight revolving floors of luxury suites in its pinnacle. There is no sign of them here. In fact, there is no sign of anything at all."
Read the rest of the article here. Parry won't be returning to North Korea anytime soon; in fact, blogging this has surely secured the fact that I won't be, either.
Photo courtesy of Joseph A Ferris III. 
WHAT DO YOU THINK?
Which of these extreme outdoor sports would you be brave enough to try?
Which of these extreme outdoor sports would you be brave enough to try?
Total Responses: 57,227
Not scientifically valid. Results are updated every minute.
FOLLOW MSN LOCAL