5 SkyMall Travel Products You Never Knew You Needed
Hidden among the kitsch and lawn ornaments are some seriously useful travel gadgets.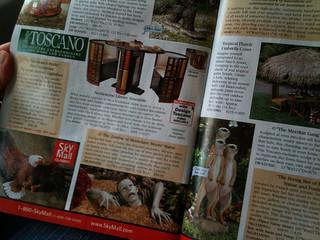 I have an embarrassing little ritual when I fly. Doesn't everyone? I'll pardon you the silly details, but just know that it starts with a prayer (to whichever nondenominational higher power may be listening) and ends with an indulgent flip through the SkyMall magazine, preferably with a vodka tonic in hand.
If you've found your way to this travel blog, you've surely perused your fair share of SkyMall, laughing at the lawn gnomes, wondering who the heck you could purchase this ridiculous pierogi Christmas ornament for. The catalog is as synonymous with flying as tiny vodka bottles and bags of stale pretzels. But hidden among SkyMall's ridiculous assortment of kitschy (and frequently outrageously expensive) gear—marshmallow shooter, anyone?—are a few truly useful travel gadgets. Behold a few of my favorites:
Suitcase scooter: Years ago, as my husband and I were making a mad dash through LAX to make a connecting flight to Fiji, we thought up a

suitcase-meets-scoot​er

hybrid. This would be our million-dollar idea! As it turns out, someone had already thought of it, and now they're hawking it on SkyMall (though they should clearly be marketing it for harried travelers rather than lazy kids).
Reclining laptop desk: When I'm working from the road, I don't have the comforts of my own home office—an uninviting hotel desk chair is totally not the same as my super comfy couch. Instead, I'd love to use this laptop desk with a kickstand of sorts that allows you to recline in bed and still be able to type blog posts with both hands. Brilliant!
Luggage scale: Too frequently, I over-pack. Who says I won't need 12 sweaters for a weekend trip to San Diego? For the irrationally over-prepared (or anyone who really likes to shop on vacay) this handy luggage scale will keep you from doing that embarrassing shuffle at the baggage counter when the attendant informs you your bag is five pounds overweight.
Bug-killing wand: Attention asthmatics, entomophobics, and anyone with a sensitive digestive tract: there is a magic wand that you can buy to wave over your

mattress/food/whatev​er

that claims to kill 99.9 percent of critters like fleas and bedbugs, plus bacteria, germs, and whatever else your neuroses is. While I can't imagine this being terribly useful at home, I think it may be just the (admittedly ridiculous) thing if you find yourself eating street food in Mexico City.
Travel workout set: Travel has personally killed a consistent workout streak more than once—who wants to pack running shoes when you need that suitcase space for espadrilles? This portable workout set comes in its own carry-on, and the included ankle weights, bar, and resistance bands will help you stay fit on the road, or at least justify all the great restaurants you'll be visiting.

Want to waste the next two hours of your day? Check out SkyMall's full catalog here.
Photo courtesy of brownpau.
WHAT DO YOU THINK?
Which of these extreme outdoor sports would you be brave enough to try?
Which of these extreme outdoor sports would you be brave enough to try?
Total Responses: 57,225
Not scientifically valid. Results are updated every minute.
FOLLOW MSN LOCAL