Romantic Instagram project takes on the world
One couple's unique travel snapshots end up an Internet sensation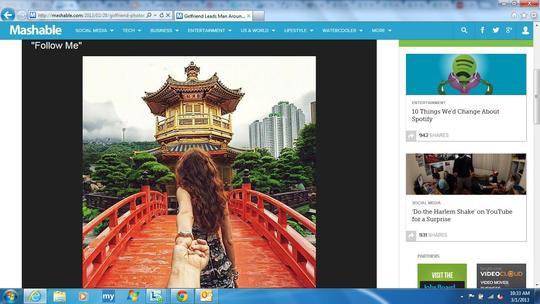 Whether or not you're a part of the Instagram community, we think you'll enjoy the travel photos of Murad Osmann, an executive producer at Hype Production in Moscow, and his girlfriend. The (admittedly heavily processed) photos turned up on Mashable last week, and they're worth the attention: colorful, vibrant images that show Osmann's girlfriend leading him by the hand to destinations around the globe.
The article states: "The first photo happened in Barcelona while we were on vacation. My girlfriend was a bit annoyed that I was always taking pictures of everything, so she grabbed my hand and tried to pull me forward. But it didn't stop me from doing photos," Osmann told Mashable. "That's how it all started."
While there are plenty of critics for this sort of camera phone photography and its punchy filters, we love such a creative idea. The images are far from the boring travel pics most of us snap and torture our friends with, and we like the romance of the project as well. It doesn't hurt that Osmann's girlfriend is easy on the eyes.
You can follow the couple's journey on Osmann's Instagram feed. Know of another interesting travel photo project? Share it with us in the comments. 
Screenshot courtesy of Mashable.com. 
WHAT DO YOU THINK?
Do you think sunrises or sunsets are more romantic?
Do you think sunrises or sunsets are more romantic?
I rarely get to enjoy either

7,591 votes
Total Responses: 59,666
Not scientifically valid. Results are updated every minute.
FOLLOW MSN LOCAL