First-timer's safari
Our intrepid blogger goes on an African safari.
By Julia Dimon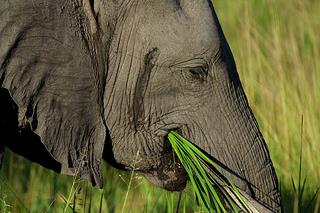 You never forget your first time. Watching a lioness feed her cubs, cheetahs chase warthogs and elephants majestically roam the African savannahs – these are not memories easily forgotten. Traveling through the plains of the Serengeti in Tanzania, the Masa Mara National Reserve in Kenya or the world famous Kruger National Park in South Africa, means stepping into the real life version of the Lion King. Once you've experienced the magic of the Serengeti, it gets in your blood. In the words of Brian Jackman "everything in Africa bites, but the safari bug is worst of all."
My first safari experience was at Bush Lodge in the Sabi Sabi Private Game Reserve in South Africa. Located in the southwestern section of the Kruger National Park, this up-market lodge offers luxury accommodations, a tranquil spa and most importantly, access to pristine nature and iconic wildlife.
Our first game drive began before sunrise. The group piled into the open-air Landrover, got a quick safety briefing and took off along dusty roads lined with broken Acacia trees de-rooted by hungry elephants.
As the sun rose over the African plains, lions napped, oryx grazed and buffalo waded in murky water. We watched lion cubs play with their siblings and warthogs scurry among wildebeest. We spotted a gang of hippos, semi-emerged in a shallow, marshy river. Sensing our presence, they bellowed a Jabba the Hutt-like chuckle, blew mist from fat nostrils and disappeared underwater. Surprisingly, it's the hippopotamus, not the lion or leopard, that kills the most number of humans each year. Though they may look slow, they have sharp canines, strong jaws and an aggressive disposition when provoked. Seeing these animals in their natural habitat, especially from this proximity, was amazing!
An African safari is an experience that should top everyone's bucket list. For those eager to make their own safari memories, here are a few first timer tips:
-Visit during the wildebeest migration, when 1.5 million of these burly antelopes follow the seasonal rains across the savanna. They typically travel through Tanzania from December through July, and then pass into Kenya's Masai Mara for August and September. Recognized as one of Africa's Seven Wonders of the Natural World, the migration is a must see.
-There are many types of safaris, ranging in price and style of accommodations. When considering an overland tour through Southern Africa, travelers should do their research. Competing overland companies generally share the same route, but differ in comfort, clientele and price. Ask about the style of accommodation, the level of participation (eg. cooking meals, cleaning and packing up the truck), the size of the group, the truck's facilities and the age of its passengers.
 -Before you go, visit a travel clinic for all the necessary vaccines and medications (especially, if you're visiting a malarial area).
-Bring binoculars, a head lamp, hat and an appropriate wardrobe. Long pants for cooler evenings or bush walks, but you don't need to go overboard and dress like Dr Livingstone.  You don't need to spend a lot of money on safari fashion, just stick with light breathable fabrics, neutral colors and long-sleeves.
-Don't be a slave to the "Big Five" checklist. Guides are doing their best to show you all the animals, but wildlife is out of there control. Go with the flow and enjoy the safari show.
Image courtesy TheGrantPeters/flick​r

WHAT DO YOU THINK?
Which of these extreme outdoor sports would you be brave enough to try?
Which of these extreme outdoor sports would you be brave enough to try?
Total Responses: 57,225
Not scientifically valid. Results are updated every minute.
FOLLOW MSN LOCAL