Slide into Whistler's Cornucopia
Foodies and oenophiles descend on Whistler's annual extravaganza.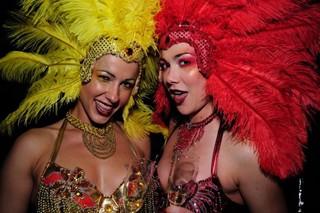 By Crai S. Bower
A travel writer's schedule contains more strikethroughs than circles. Instead of deciding where we want to go each year, we more often make decisions about where we won't be going. Budapest? Yes, I have assignments and the contracts are signed. Costa Rica? Have wanted to make it happen for years but sadly, these penciled-in dates are starting to fade.
Most of us rarely visit the same place, let along the same event, twice. I visited the Yukon in 2007, where I watched bear cubs scamper across a hillside while paddling across Chadburn Lake, kayaked and whitewater rafted down the Yukon River and Tatshenshini Rivers respectively. I was looking at return flights here before I even left Whitehorse. I've never been back.

Yet each year I attend Cornucopia in Whistler, B.C. A non-foodie who enjoys, but doesn't know a lot about wine, I'm not sure why I love this event so much. Could be the village during the shoulder season feels a lot like a college campus during summer: a gorgeous setting without many people.

Whistler is wonderfully positioned to take its place beside Banff, Aspen and Telluride, each now as popular for jazz and literary festivals, film exhibits and think tanks as they are for their snow. Much younger than its peers, Whistler's slowly evolving past snow-focused celebrations like spring's annual World Ski & Snowboard Festival or the youthful Crankworx Mountainbike Festival.

Cornucopia is a great start, when amateur foodies and oenophiles flow into Whistler wearing excitement usually displayed by kids entering Disneyland. More than seventy food and wine related events fill the weekend schedule, from truffle inspired lunches to an Asian Night Market. A day's schedule typically includes a chef and winery luncheon in a private home, the "Viking Stage Series," tutorials featuring chefs from across Canada, an early evening wine tasting followed by a winemakers dinner and a party.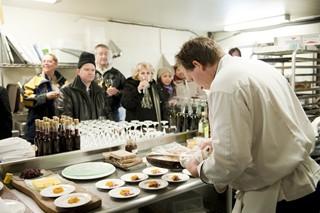 While the parties garner the most print (more on these momentarily) the "Chef's Trip to the Farm" has emerged as the "don't miss" event of the festival, even though it begins at the inhumane time of 8:30 am. This year, Fairmont Chateau Whistler Executive Chef Vincent Stufano and North Arm Farm owner Jordon Sturdy will discuss the backstory of fresh produce followed by a rustic lunch in the farmhouse kitchen.

Cornucopia may be best known outside food circles for Masquerave, Bearfoot Bistro's biannual blowout featuring infinite booze, painted ladies and world renowned DJs. Suspended for its audacity, proprietor André St. Jacques brought his party back last year with typical fanfare and just a wee bit of scandal. Araxi, Bearfoot's traditional rival for top village restaurant, uncorks its champagne party, "Bubbles + Oceans," annually. The Fairmont Chateau Whistler enters the late night frolic this year with the High Roller Party, a black tie affair that replaces locals' favorite Casino Royale.

I'll pop back in a couple of weeks to tell you what I liked or found lacking at this year's event. But, review aside, may I suggest you circle the second weekend in November, 2013. Cornucopia is way too much fun to miss, even once. 

Photos courtesy of Steve Rogers and Mike Crane

WHAT DO YOU THINK?
Which of these extreme outdoor sports would you be brave enough to try?
Which of these extreme outdoor sports would you be brave enough to try?
Total Responses: 57,226
Not scientifically valid. Results are updated every minute.
FOLLOW MSN LOCAL