Dispatches from the jungles of Guyana
Our blogger explores the remote Amerindian community of Rewa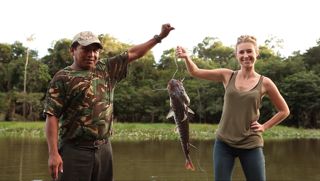 I'm writing this MSN blog post by the light of my MacBook laptop, a million fireflies and fat moths circling around my screen. Amazingly, even though I'm traveling through the remote jungles of the relatively unknown South American country of Guyana, I'm plugged in and online. The pervasiveness of the Internet in some of the world's most secluded places has always amazed me; it's remarkable how cultures from all around the world, no matter how isolated, can update their Facebook status and share in the latest YouTube sensation. 
But viral videos and high speed Internet is certainly is not the reason why I made the epic river journey from the capital city of Georgetown to the southern part of the country, in the heart of the Amazonian basin in North Rupununi. I'm here in the tiny remote Amerindian community of Rewa, located at the apex of where the Rewa and Rupununi rivers converge, to experience authentic eco-tourism at its best. It's part of a tour run by Adventure Life, a tour operator offering multi-sport and adventure expeditions across Central and South America.
A former British colony, Guyana, located on the Atlantic in the northeastern part of South America, has a distinctly Caribbean vibe. Its first language is English, making it an easy place for Anglophones to travel. With an estimated 30,000 tourists annually, it's veritably untouched and exists off the radar of most adventure travelers. 
While neighboring Brazil and Venezuela draw those looking to view exotic birds and wildlife, the Guyanese landscape (approximately 80 percent of the country is covered by tropical rainforest) boasts some spectacular wildlife and a long list of superlatives. For example, you've got the arapaima (the world's largest scaled freshwater fish); the false vampire bat (largest bat in South America); the jaguar (the largest cat in the Western Hemisphere); the capybara (the world's largest rodent); the harpy eagle (the largest eagle in the Americas); the tapir (South America's largest native mammal aka the bush cow); not to mention the giant river otter, the giant anteater, the giant armadillo and giant river turtle.
Home to an estimated 225 species of mammals and 815 species of birds, there's no shortage of wildlife in Guyana. That said, the tricky thing about wildlife viewing is that there are no guarantees. While I am, in fact, in jaguar territory, the chances of me actually seeing one are apparently quite small. Each tour group that passes through the Rewa region may see different things, so it's important to manage expectations. Wildlife viewing in Guyana is not like an African safari and it may take much more time between animal encounters. 
With such rugged nature and ample biodiversity, Guyana is becoming a popular spot for avid birders and anglers. Some of the best fishing around Rewa is Grass Pond, a serene oxbow lake where eager anglers can catch peacock bass, catfish, and toothy piranhas of all colors. 
Earlier this afternoon, I had a chance to try the local Makushi style of fishing. Paddling in a dugout canoe, armed with a hunk of sashimi as bait, I lassoed my hand line and plunked it in the murky brown water. It took a lot of patience and a few small, boney piranhas before I caught my Mr. Big, an eight-pound catfish with leopard-like markings. I proudly displayed my Amazonian catfish and high fived my guide. We lugged it back to the Rewa Eco-lodge. It makes excellent eating, especially while updating your Facebook profile. 
When not fishing or spotting illusive creatures along the riverbanks, activities from the Rewa eco-lodge include a boat trip to the Seawall, a rock formation popular with giant river turtles, a trip to the local Makushi village and a challenging hike up the Awarmie Mountains for a 180-degree view of the canopy treetops. With a sprawling landscape of trees as far as the eye can see, it reminds you of how isolated you really are. Picture dense green foliage as far as the eye can see,  and there's not a Starbucks in sight.

Stay tuned for my next dispatch from the jungles of Guyana, when I head out on a hardcore jungle survival trek and brave venomous snakes, monster tarantulas and poisonous ants.
Image courtesy of Julia Dimon. 
WHAT DO YOU THINK?
Which of these extreme outdoor sports would you be brave enough to try?
Which of these extreme outdoor sports would you be brave enough to try?
Total Responses: 57,225
Not scientifically valid. Results are updated every minute.
FOLLOW MSN LOCAL