A highly informative picture
Clicking to learn about Grand Central Terminal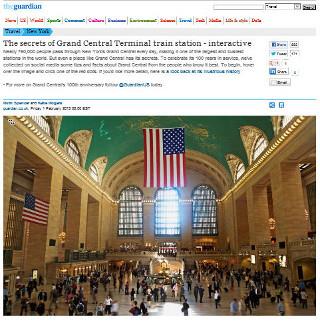 New York City's Grand Central Terminal is probably the definitive transportation building in America.
The high-vaulted and much-storied historical treasure is an astounding 100 years old, and the Guardian created a wonderful interactive feature to celebrate the grande dame of trains, subways and Big Apple travelers.
Head to the Guardian's webpage and move your cursor over hotspots on the picture to read historical tidbits like the following:
"Look left when inbound or right when outbound on the upper level to see Track 61, President Franklin Delano Roosevelt old private platform. His armor-clad train car is still there."
Click through on topics to see photos, get additional info and more.
It's a very cool tribute to a great public space.
Plus, check out Grand Central's own centennial webpage to learn more.
Photo: A screenshot from guardian.co.uk
Are you sure you want to delete this comment?
WHAT DO YOU THINK?
Do you think sunrises or sunsets are more romantic?
Do you think sunrises or sunsets are more romantic?
I rarely get to enjoy either

7,591 votes
Total Responses: 59,666
Not scientifically valid. Results are updated every minute.
FOLLOW MSN LOCAL