New Amsterdams?
Marijuana tourism to Washington and Colorado will have to wait until the smoke clears.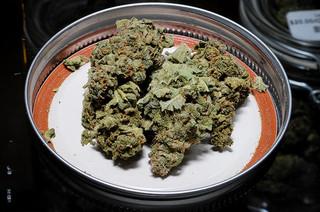 By John Rosenthal
Now that voters in Colorado and Washington have legalized marijuana, will tourism rates to those states suddenly go sky high with smokers from all over the west?  Not so fast, say the experts.

Both states amended their constitutions to treat cannabis largely the same way they consider alcohol, and prosecutors in both states have already dropped charges against recreational marijuana users. But because federal law still prohibits production, distribution, and possession of marijuana, nobody expects a weed stampede to Washington and Colorado until the U.S. Justice Department indicates whether it will prosecute drug offenses in those states.
Plus it will probably be more than a year before legislatures in each state implement regulations on how the plants may be grown and sold.  So for now, the popular Baked in Telluride restaurant won't be selling any space cakes or Rocky Mountain high pie, and the only mind-altering substance you'll find at a Seattle coffeehouse is caffeine.
Post continues below video

Washingtonians can keep track of the path to legalization at the state Liquor Control Board's website: www.liq.wa.gov/marij​uana/I-502. And the Seattle Police Department recently published a primer called Marijwhatnow, which answers the most common questions about production, sale, and possession.  Even after the laws take effect, both states will continue to prohibit use by minors, and will retain strong penalties for driving under the influence of marijuana.
While the ballot initiatives made big news, they largely formalized situations that have existed unofficially for years. In 2005, Denver became the first major U.S. city to decriminalize adult possession of the drug, and medical marijuana has been legal—and widely available—In both states for more than a decade. 

"I'm amazed at the number of 24-year-olds who are in chronic pain in this state," said Al White, Director of the Colorado Tourism Office.
For the past 20 years, Seattle has had an annual taste of legalized marijuana at Hempfest, a three-day celebration in a park in the middle of the city where police ignore dope-smokers.  Colorado's skiing and snowboarding resorts are also familiar with a little grass poking up through the snow.  According to the Associated Press, legalization enjoyed its strongest support in places like Aspen, Vail, and Telluride, where nearly 80 percent of voters favored it.
More on Local: Tourists can still toke in Amsterdam

So for the immediate future, weed tourism is unlikely to catch fire in either state.  "What will benefit tourism to Washington even more is the position the electorate took toward gay marriage," said Darrell Bryan, CEO of Clipper Vacations, a Seattle travel agency.  "A lot of gay people have been going to British Columbia to get married, but  I expect more of them to come to Washington now that it's legal here."
Meanwhile, the incoming government of the Netherlands in October rejected a plan for a "weed pass" that would have prohibited non-residents from patronizing the country's renowned "coffee shops."  Instead, it gave individual cities the option to bar  foreigners from marijuana cafes, but nobody expects Amsterdam to do so because so many of its tourism dollars come from recreational pot smokers.
WHAT DO YOU THINK?
Which of these extreme outdoor sports would you be brave enough to try?
Which of these extreme outdoor sports would you be brave enough to try?
Total Responses: 57,225
Not scientifically valid. Results are updated every minute.
FOLLOW MSN LOCAL