Heading to Sundance?
An expert offers film fest survival strategies.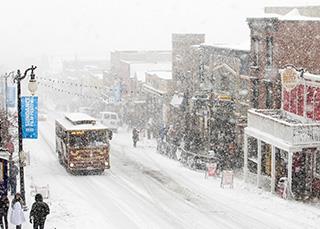 Here comes January... For cinephiles, it's time to get ready for the 2013 Sundance Film Festival in Park City, Utah.
I checked in with
Dan Nailen
, a writer who's been attending and covering Sundance for more than a decade, for some tips on keeping visits to the star-studded extravaganza as trouble-free as possible.
Here's what he has for Sundance advice:
Dress for a wintry Utah
"While people like to dress to impress at Sundance, the wise dress for the weather. If it's a big snow year, you don't want to be the person sliding down the street in high heels. Layer up, because you'll spend plenty of time in line, and the line is almost always outside."
Be patient
"The Salt Lake City airport is only 45 minutes from Park City if the weather is good, but once the snow starts flying, be prepared for delays. In 2012, the interstate to Park City completely shut down on the second day of the festival due to an ice storm."
Ditch the automobile
"Whatever your plan is for moving from one part of Park City to another during the festival, add an hour. The first weekend packs the little resort town so tight that shuttle buses and cars move at a snail's pace, if you're lucky. Related: Don't bring a car. It's not worth the hassle."
Don't chase after celebrities
"Everyone hears rumors of great parties full of celebrities and great music. Often, the rumors are true, but most of those parties have moved from nightclubs on Park City's Main Street to private condos in the hills outside of town. Don't bother trying to find those--you'll just get stuck in a snowdrift."
Don't feel disconnected
"Wireless and cell phone reception is spotty at best in Park City during Sundance, so be prepared to be off the grid at times."
Bring your skis (and boards)
"If you're a skier, Sundance is the perfect time to hit the slopes around Park City. Not only might you spot a celebrity, but the local ski community avoids the Park City resorts during the festival, making for short lift lines and lots of open terrain."
Nailen also notes that while the main Sundance action takes place up in lofty Park City, Salt Lake City down in the valley hosts many festival events and film screenings. It can make for a more relaxed and frenetic experience.
Sundance Film Festival runs January 17 through January 27.
Photo credit: Mark Maziarz | Park City Chamber of Commerce & Visitors Bureau
WHAT DO YOU THINK?
Which of these extreme outdoor sports would you be brave enough to try?
Which of these extreme outdoor sports would you be brave enough to try?
Total Responses: 57,225
Not scientifically valid. Results are updated every minute.
FOLLOW MSN LOCAL