A Bucket-List Trip -- By Accident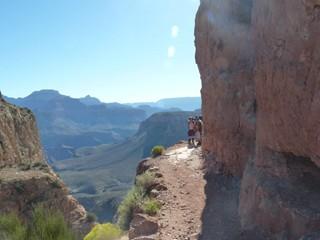 Two years ago this September, I got onto a private Grand Ranyon raft trip. In case you think it was the result of incredible planning, think again -- it was the result of a chance meeting at a campground in Wenatchee.
Floating the Colorado River had been a dream of mine for years, but it was a "someday" dream. I had never made the effort to save the money or take time off my job to devote two weeks to living at the bottom of what is affectionately known as "The Ditch."
But when a then-casual acquaintance, who I had met camping about a year earlier, announced that he and his partner had secured a private raft permit and invited me along, I abandoned time and financial concerns. I hadn't asked for it or expected it -- not then, anway -- but I was going. I wanted it bad. Quit my job if I couldn't get time off? Yep, I would have done that. Live on rice and beans until the end of the year to pay my way? Check.
After a hot (hot!) 7-mile hike along the South Kaibab trail from the South Rim to the sweetly green Phantom Ranch at the canyon's very bottom, we met up with our group, which had put on a week before. Ten days of the most difficult physical conditions I've ever endured followed. My butt chafed from sitting on the raft for hours at a time and my shins were covered in bruises from jumping in and out of the raft. The relentless arid heat turned my skin painfully dry. Bugs bit me everywhere. My fingertips and the soles of my feet cracked from getting wet, then dry, over and over again. I didn't comb my hair or look in a mirror for 10 days.
It was heavenly.
Springs trickling out of the red rock formed delicate oases throughout the canyon, fringed with brilliant green ferns and scarlet monkeyflowers. We swam under waterfalls so powerful their noise sounded like a helicopter was landing nearby. We bathed in the otherworldly turquoise waters of Havasu Creek, and wiggled out of a slimy grotto to jump into the pool at Elves' Chasm. We took the huge waves of Lava Rapid without a single mishap.
I'd do it again tomorrow. I may have rafted the Grand Canyon once, but I don't consider it entirely crossed off my travel Bucket List -- maybe after I've done it twice. Or three times.
And planned it this time.
Got a dream trip you haven't done yet -- or one that fell into your lap? Share!
WHAT DO YOU THINK?
Do you think sunrises or sunsets are more romantic?
Do you think sunrises or sunsets are more romantic?
I rarely get to enjoy either

7,591 votes
Total Responses: 59,666
Not scientifically valid. Results are updated every minute.
FOLLOW MSN LOCAL