Last minute time travels
Museums in Washington State, Oregon and California are digging history for a few more days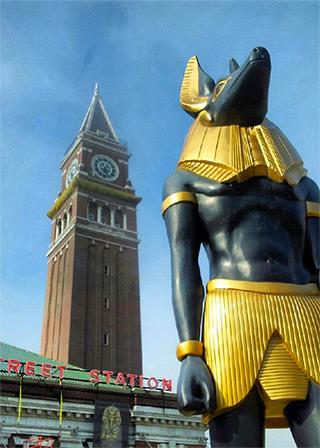 By Greg Thilmont
If you're an archeology fanatic, you have a week and a half left to delve into ancient Egyptian, Greek and Roman cultures at some of the finest museums on the West Coast.
At Seattle's Pacific Science Center,
"Tutankhamun: The Golden King and the Great Pharaohs"
has been thrilling Puget Sound crowds with gleaming treasures of the famous boy-king from the Nile since May. The impressive exhibit closes Jan. 6, 2013, and this is the last time this trove will be on display in North America. The center is staying open until midnight on Fridays and Saturdays to accommodate budding Egyptologists of all ages for a final glimpse of Tut.
The Portland Art Museum in Oregon's dynamic metropolis is keeping things classical with
"The Body Beautiful,"
an exhibit dedicated to Greek and Roman sculpture and other priceless items on loan from the British Museum. The focus of the show is on the human form, and it's fascinating to see how the Greeks and Romans portrayed anatomy and life as their cultures evolved over the centuries. It also runs through Jan. 6.
Finally, everybody's favorite volcano-destroyed city is the focus of
"The Last Days of Pompeii: Decadence, Apocalypse, Resurrection"
at the J. Paul Getty Museum in Los Angeles. The exhibit features visions of Roman life and death under Mount Vesuvius by painters from Fragonard and Ingres to Rothko and Warhol. "Last Days" closes shop on Jan. 7.
Photo credit: Pacific Science Center
WHAT DO YOU THINK?
Which of these extreme outdoor sports would you be brave enough to try?
Which of these extreme outdoor sports would you be brave enough to try?
Total Responses: 57,225
Not scientifically valid. Results are updated every minute.
FOLLOW MSN LOCAL