Working from Wherever
One telecommuter gives the real deal on working while traveling.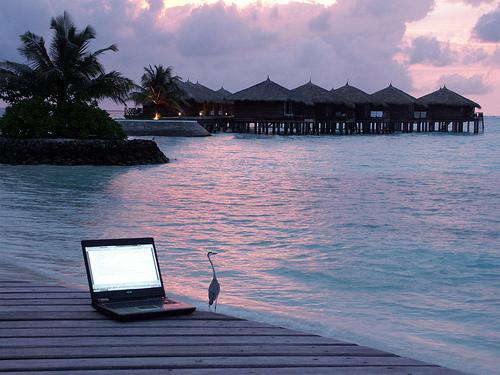 Tell people that you work from home, and few understand the scope of what that means. As someone who has spent most of the last three years telecommuting, I understand well the confused looks as I try to explain that I have a very real job that I slog away on, and I'm not just selling Beanie Babies on eBay.
Fact: Working from home means you can conduct conference calls, fill out invoices, and generally fulfill your company role wearing yoga pants and from anywhere with Wi-Fi. Amazing!
Myth: Working from home means you can start work late, end your day early, and play tour guide to every person who takes a vacation to come stay with you.
I've built a network of telecommuters over the years—writers, designers, programmers, photographers, and entrepreneurs who I can commiserate with and occasionally co-work with from the nearest café. One such person is David Hoang, an enterprising UX/UI designer who has an apartment (and very large cat) in Brooklyn, but prefers to bounce around the globe now that he's not tethered to an office chair. Last week, David wrote this, a funny-but-real blog post about how to travel the world and still get work done.
David does it right: he works hard and he plays hard, but he does it responsibly. Following his Twitter feed is like playing a game of "Where in the World is Carmen Sandiego?" He's out for drinks in San Francisco, meeting with a client in Seattle, searching for good Wi-Fi in Paris, making new friends in Prague. To wanderlusters it sounds like he's living the dream, but it's important to remember that this dream requires a lot of planning, saving, and self-discipline. It also requires you to be self-employed (or have a very understanding employer).
Telecommuters already know that traveling and working is more work than you probably think it is. You have to decide between taking the vacation you want—drinks by the pool at noon, a four-day hike to Machu Picchu—and the kind of trip that would be conducive to normal business hours and operations. What I've found is that if you're staying with friends, visiting a city you've been to before, or are going anywhere for an extended period of time, working from wherever is just fine. But if you truly expect some R&R from your time away from home, take your vacation days and leave the laptop at home. I think David would agree. 
Photo courtesy of Giorgio Montersino.
WHAT DO YOU THINK?
Which of these extreme outdoor sports would you be brave enough to try?
Which of these extreme outdoor sports would you be brave enough to try?
Total Responses: 57,225
Not scientifically valid. Results are updated every minute.
FOLLOW MSN LOCAL