Seattle's coolest new way to travel
Hot Tub Boats are just what they sound like: floating hot tubs you can use to cruise Lake Union.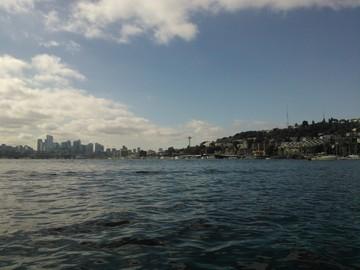 Occasionally, I run across an idea so brilliant that I can't believe someone else hadn't come up with it first (and mostly I lament the fact that I specifically didn't come up with it first). Not a common occurrence nowadays, since original ideas seem to be fewer and farther between. And then I found out about Hot Tub Boats.
The beauty about Hot Tub Boats is that it's exactly what you think it is. The Seattle-based company has engineered a hot tub that floats, so you can soak in leisure at a comfortable 100 degrees while tooling around Lake Union's smooth surface and checking out the waterfront sights like Gasworks Park and Center for Wooden Boats. The boat is easy to drive thanks to a simple joystick controller and seats up to six. It's pure genius.
I spent a morning recently in one of Hot Tub Boats' custom hot tub boats. Though the day was clear and blue and perfect in nearly every way—one of Seattle's last few majestic summer days—I think the trip would have been just as enjoyable on a morning as grey and chilly as this one. In that way, this idea is even smarter: what better place to launch a hot tub boat business than drizzly Seattle? (What's the best time of year to visit Seattle?) 
In the last few weeks, Hot Tub Boats has procured more boats to accommodate its boom in popularity, and they now also offer their custom design for purchase as well. I can't imagine a better gift.
Photo taken from Lake Union in one of these awesome hot tub boats. 
Are you sure you want to delete this comment?
WHAT DO YOU THINK?
Which of these extreme outdoor sports would you be brave enough to try?
Which of these extreme outdoor sports would you be brave enough to try?
Total Responses: 57,225
Not scientifically valid. Results are updated every minute.
FOLLOW MSN LOCAL