Leave the couch behind this Saturday
National Get Outdoors Day happening on June 8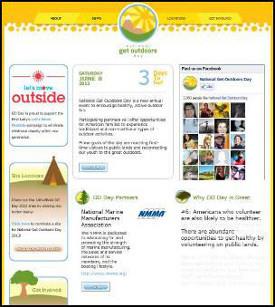 While summer doesn't start officially for two more weeks, days are now long and warm — perfect for outdoor recreation.
As a bonus, this coming Saturday marks the 6th annual National Get Outdoors Day, a countrywide collection of events designed especially with kids and families in mind.
Various participating locales will have activities such as fishing, geocaching, camping skill demonstrations, hiking, rafting and more.
There will be opportunities to learn about nature as well as healthy living. Animal characters including Smokey Bear and Woodsy Owl will be on hand for photos, too.
Here is a partial list of National Get Outdoors Day places:
Talladega National Forest — Munford, Alabama 
Mormon Lake Lodge Outdoor Festival — Mormon Lake, Arizona 
Stanisalus National Forest Pinecrest — California 
Dinosaur Ridge — Morrison, Colorado 
Ocmulgee National Monument — Macon, Georgia 
Dworshak Dam — Orofino, Idaho 
Dunes Learning Center — Chesterton, Indiana 
Great Plains Nature Center — Wichita, Kansas 
Hazel Outdoor Discovery Center — Eden, Maryland 
New Bedford Whaling National Historical Park — New Bedford, Massachusetts 
The Henry Ford Museum and Greenfield Village — Dearborn, Michigan 
Pat Lamar Park —  Oxford, Mississippi 
Lone Pine State Park — Kalispell, Montana 
Mt. Charleston —  Near Las Vegas, Nevada 
Mount Morris Dam & Recreation Area — Mount Morris, New York 
Hanging Rock State Park — Danbury, North Carolina 
Delaware Lake State Park — Delaware, Ohio 
Bonneville Lock and Dam Cascade Locks — Near Portland, Oregon
Lehigh Valley Zoo — Schnecksville, Pennsylvania 
Snowbird Resort — Near Salt Lake City, Utah
Shenandoah River State Park — Bentonville, Virginia 
Rock Creek Park Golf Course — Washington, D.C. 
Curt Gowdy State Park — Cheyenne, Wyoming 
MSN Travel: Four unexpected vacation spots
Many government agencies, non-profit organizations and companies are participating and supporting National Get Outdoors Day, including the following: American Recreation Coalition; U.S. Forest Service; kids troubadour Joe Reilly; Coca-Cola; The Coleman Company; Airstream; American Hiking Society; American Quarterhorse Association; Boy Scouts of America; Girl Scouts of America; National Park Service; President's Council on Physical Fitness and Sports; REI and Cabella's.
MSN Travel: 10 great outdoor stores in the U.S.
MSN Travel: 10 rules of campground etiquette
Screenshot courtesy of NationalGetOutdoorsD​ay.org
WHAT DO YOU THINK?
Which of these extreme outdoor sports would you be brave enough to try?
Which of these extreme outdoor sports would you be brave enough to try?
Total Responses: 57,225
Not scientifically valid. Results are updated every minute.
FOLLOW MSN LOCAL