A portrait of Felix Baumgartner
Vanity Fair profiles the record-breaking BASE jumper in May's issue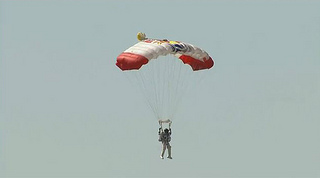 When we think of travel, we generally think in terms of distance, not height. Even the mountaineers and pilots among us don't think like Felix Baumgartner, who last year broke the altitude record for human free fall—jumping from 99,000 feet higher than Mount Everest—at supersonic speed and this month is featured in a lengthy Vanity Fair article eloquently titled "The Man Who Pierced the Sky."  
An Austrian Red Bull showman, Baumgartner is the very picture of macho daredevil: "He is photogenic. He is fit. His fiancée was Miss Lower Austria in 2006. When he furrows his brow he looks determined and intense. On-camera he becomes the very image of a middle-aged action figure, the perfect emblem for an important market segment of middle-aged men," writes Vanity Fair contributor William Langewiesche.
Though a record eight million people tuned into YouTube to watch with bated breath last October as Baumgartner's balloon floated up, up, up to 128,000 feet, few understand the planning and logistics involved in such a remarkable journey. The article walks through the 43-step checklist prior to his jump. It talks about all the horrific ways things could have gone wrong; about the outrageous cost of such an endeavor. But perhaps most interesting are the details given about the jumper, Baumgartner himself, a boy who took up skydiving at age 16 and whose thrill-seeking nature led him to BASE jumping and a career made doing the death-defying sport on camera. He traveled the world, developed a claustrophobic aversion to the pressure suits that would eventually help him reach fame, and then leapt from a height higher than anyone before him—not quite space, as advertised, but damn near close.
Climbing the Eiffel Tower or visiting Lady Liberty's crown will never be quite as terrifying again. It's all in the perspective, right?  
Image courtesy of deoman56. 
Are you sure you want to delete this comment?
WHAT DO YOU THINK?
Which of these extreme outdoor sports would you be brave enough to try?
Which of these extreme outdoor sports would you be brave enough to try?
Total Responses: 57,225
Not scientifically valid. Results are updated every minute.
FOLLOW MSN LOCAL